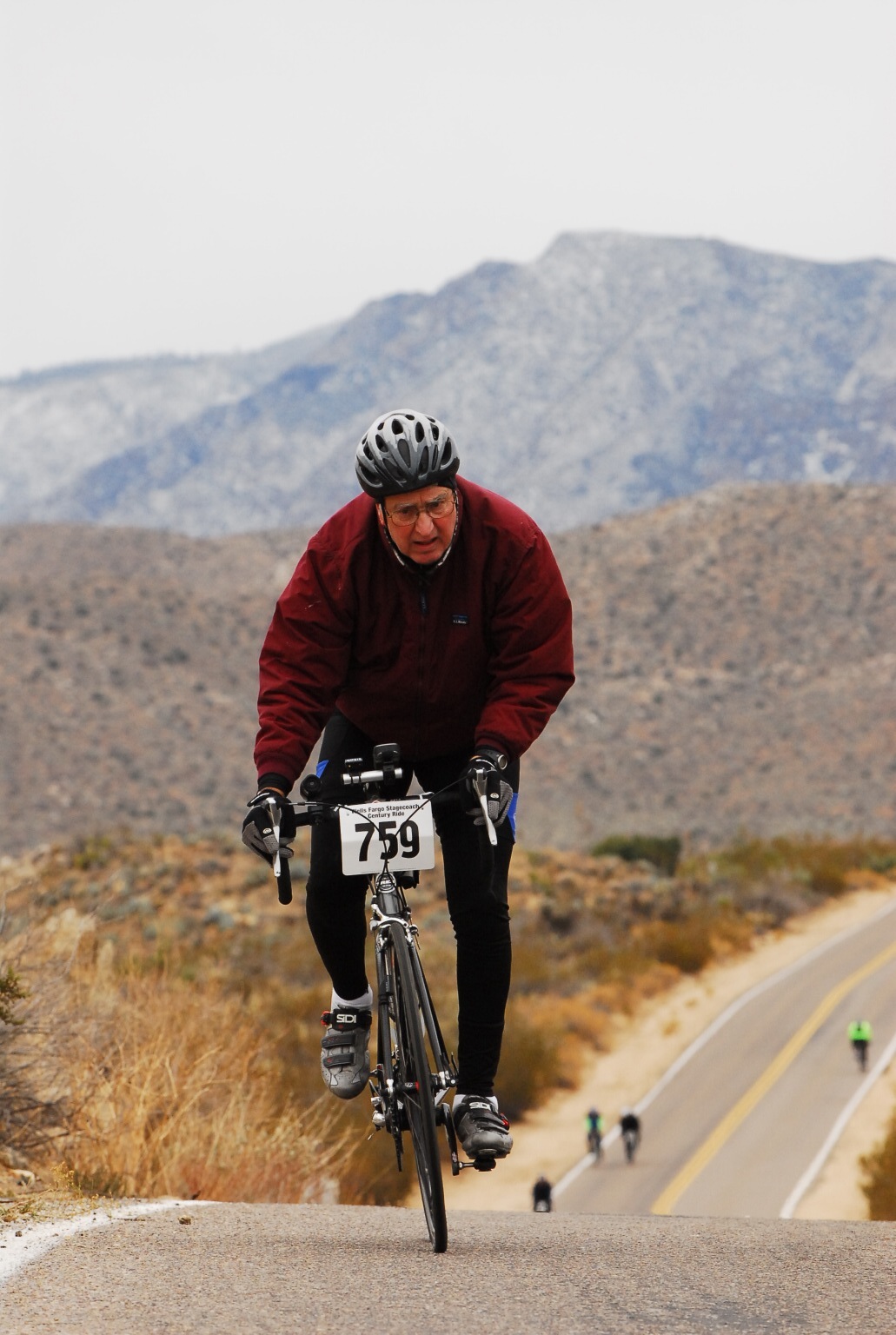 Cresting Sweeney Pass Near Ocotillo, CA
Click here for Death Valley Video Clip
I rode with the BCCClub on March 3, 2007 from Furnace Creek to Jubilee Pass and back. Riders included Jim & Debbie, Marty & Kelly, Joe, Herlindo, Steve, George and me. A total of 289 riders entered either the century or double century. Of these, a total of 146 actually finished the century and 78 the double century. Some of the double century riders were still coming in at 8 to 9 PM under full moonlight. Canada and 22 of the contiguous US states were represented. This was my last "big ride" before riding across America.
Our group left the Furnace Creek Ranch about 6:40 AM and headed south for the first SAG stop at Badwater (282' below Sea Level and the lowest point in North America). The next SAG stop was at Ashford Mill, just before the climb up to Jubilee summit at an elevation of 1293'. At the summit, volunteers were there to check-off bib numbers so that when you finished back in Furnace Creek, officials knew you had completed the course.
The ride back north was complicated by fierce headwinds which I estimate were 20-25 knots. We attempted pacelining going to Furnace Creek to reduce our overall effort and thanks to Marty, who rode point most of the time, we all made it back safe and sound.
The total distance covered in 7hr:51min was 105 miles, with 5190' of climbing according to Jim's altimeter.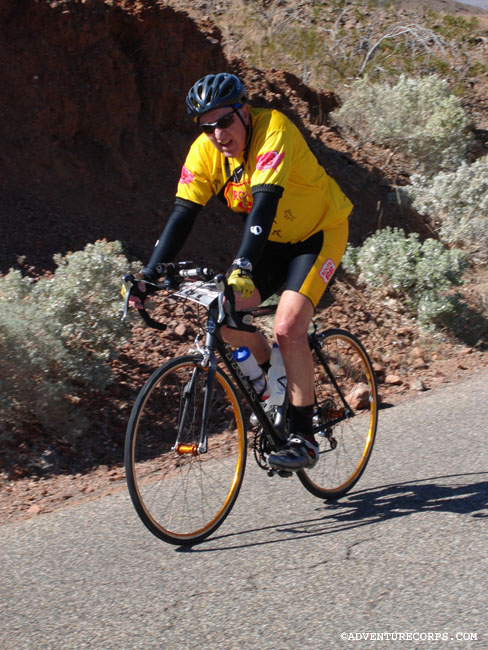 Jubilee Summit
Long Beach to Turtle Rock & Back via Balboa Island
A group of eight riders departed from Joe's Crab Shack at about 8:45 AM on Saturday February 17, 2007 and headed south. The group included George, Tom, Art, Helen, Jeanie, Lillie, Don and me. We returned back at Joe's at about 2:15 having covered 56 miles at an average pace just under 14 mi/hr. Video clips of the ride are posted below:
Click here to play Newport Dr/Bonita Canyon video
Click here to play Balboa Is Approach video
Third Annual Wells Fargo Stagecoach Century
Over one thousand riders participated in the third year of this "Best Century Ride in America" despite the historic low temperatures being experienced in Southern California this January. When the BCCClub group arrived at the halfway-point lunch stop, in Shelter Valley at noon on Saturday January 13th, 2007 the temperature was a "cool 34 degrees" with the wind "in your face" out of the south on the 50 mile return to Ocotillo.
From the valley floor at the start/finish line in Ocotillo, cyclists headed north, at an elevation of 373 feet to over 2600 feet, with the biggest climbs being Sweeney Pass and the Campbell Grade on San Diego County route S2. Total climb for the ride, as recorded by Jim Hannon's altimeter, was over 4900 feet.
Our group departed from downtown Ocotillo at 7:40 AM and finished at right around 3:30 PM when the temperature on the valley floor had "soared" to a high of 47 degrees in mid-afternoon. It was a "very cool ride" and well worth the effort to view the splendor in Southern California's largest state park, Anza Borrego.
Click here to view Campbell Grade Downhill Video
Route & Elevation Profile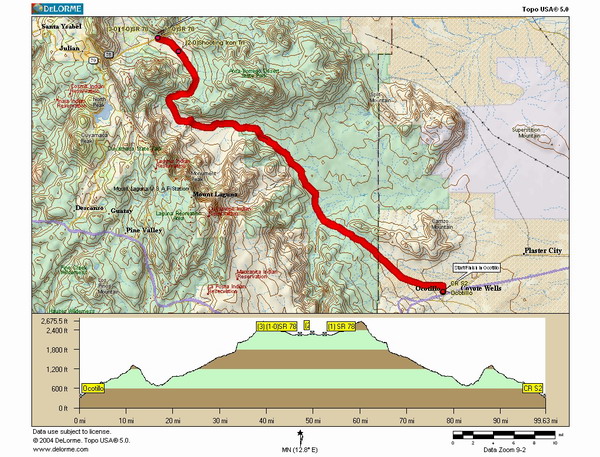 BCCClub Ride to Nichols Canyon
Ten riders participated in this ride up to Nichols Canyon on Saturday January 6th, 2007. The total climb up the canyon from Sunset Blvd was about 800 feet with the last quarter-of-a-mile being a tough 19%-20% grade! Once up on Mullholland things smoothed out and the downhill along Sepulveda Blvd was absolutely exhilerating.
The total mileage covered in just under 5 hours for the ride was 64.
Click here for Mullholland/Sepulveda video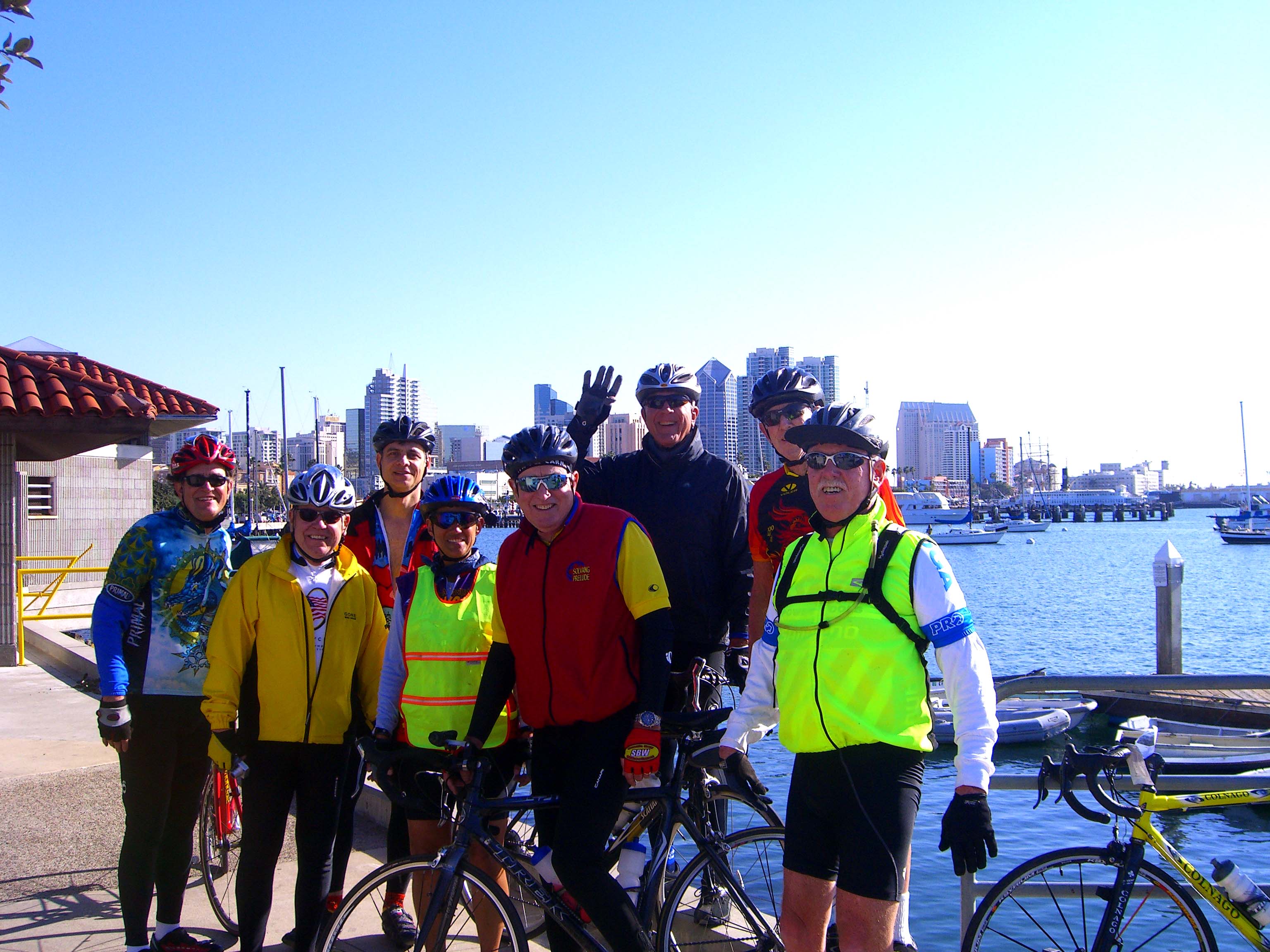 BCCClub in San Diego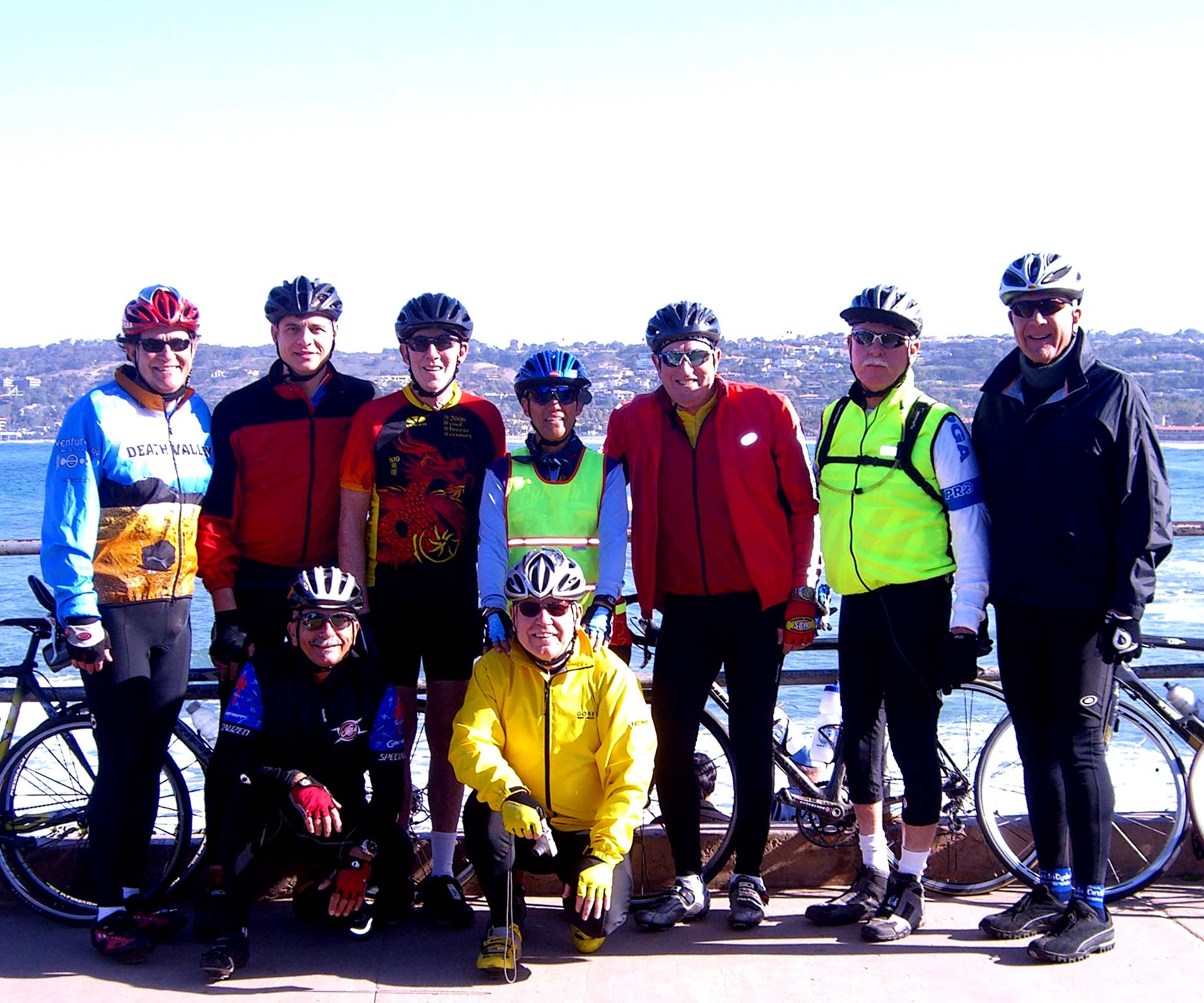 BCCClub in La Jolla
Eleven hearty souls left the Irvine, CA train station, just before 9 AM Wednesday Dec 27th, 2006 for two back-to-back metric century rides and headed southeast on what turned out to be a very wet and blustery day. We got rained on for about the first hour-and-a-half and the wind began "howling" out of the north at about 40 knots. Fortunately, once we turned more to the south we were "off-the-wind" and were literally blown along at around 21 or 22 miles/hr without expending any effort whatsoever! Highlights of the day included riding past the Mission in San Juan Capistrano, the former "Nixon Western White House" in San Clemente, and the nuclear generating plant at San Onofre before traversing through Camp Pendleton. We made a lunch stop at the Oceanside Marina then flew south, with the swallows, through Carlsbad and Encinitas before reaching our overnite stop in Solana Beach at the Courtyard Marriott.
The first day's total distance from Irvine amounted to a respectable 61 miles at an average speed of 15 miles/hr. It was nice to have the tailwind, but whenever we had to turn slightly to the west we got buffeted by the heavy crosswind making it very difficult at times to stay on the bike. Another problem was the blowing sand, which was very stinging in addition to obscurring visibility. All of us however, made it safely through the day and enjoyed the safe harbor provided by the hotel with its relaxing spa and rooms.
Day two, Thursday Dec 28th, turned out to be absolutely gorgeous with bright sunshine and just a whisper of wind. We got started just before 9 AM and encountered the biggest hill on the ride just 5 miles south of Solana Beach before entering the Torrey Pines area. This was a moderate climb of about 2 miles in length with an elevation gain of about 440 feet. Later, we had a couple of rest stops in La Jolla at some beautiful vista-points to take several group photos. After we hit the Mission Bay area in San Diego, the group opted to cut the ride short and head straight for the train station downtown for the ride back up to Irvine instead of ferrying over to Coronado Island as originally planned. We did this because we were running late due to several flats and the time spent in La Jolla. We boarded the 3:00 o'clock Amtrak "Surfliner" for a comfortable ride back and arrived in Irvine just before 5 PM making for a great two-day event!
The total distance covered for the two days was 102 miles at an overall average speed of 13.6 miles/hr.
Beach Cities Cycling Club "Coffee to Nichols Canyon Ride"
The highlight of this 67 mile ride, held on Saturday November 25th, 2006 was the climb up Nichols Canyon to Mullholland Drive with its beautiful vistas of the San Fernando Valley and surrounding Santa Monica Mountains. The climb was a moderate one of about 800 feet gain in elevation over two miles and was perfectly positioned about midway thru the ride. The downhill "payback" was a pleasant one along Sepulveda Blvd past the Getty Museum before letting down into the Veteran's Administration area near UCLA. From here we picked up San Vicente Blvd heading west back into Santa Monica and Venice where we picked up the bikepath to the South Bay.
It is interesting to note that a good portion of the ride up to Nichols Canyon was along old Route 66 (Santa Monica Blvd) thru Santa Monica, Century City, Beverly Hills and Hollywood.
Beach Cities Cycling Club "Long Beach to Turtle Rock"
Jim Hannon's group rode from the Long Beach Marina to Turtle Rock and back on Saturday November 11th, 2006. The total distance for the ride covered 60 miles. The group left the parking lot at Joe's Crab Shack around 7:45 AM and got back right around 1:00 PM in the afternoon. The biggest climb on the route was encountered on Newport Coastal Drive-about a 5.6% grade for 2 miles. "King-of-the-hill" honors went to George on this ascent. This was a very enjoyable coastal ride thru Seal Beach, Huntington Beach, and Newport Beach which also included a ferry ride across to Balboa Island. The ride back along PCH was a fast paced one led by John.
Saturday, November 4th, 2006 was a beautiful day for this popular California Cycling Event. The weather, typical for the Central Coast in autumn, started out relatively cool, around 50 degrees with some low clouds and fog, but quickly gave way to brilliant sunshine after the first riders departed around 7:30 AM. By the time most riders finished in the early afternoon it was a warm 84 degrees in downtown Solvang.
In this part of California, the fall colors are provided on the hillsides, not by the scub oak trees, but the vast number of grape vineyards with their yellow & gold foliage-what a sight!
Over 2100 riders registered for the event which offered three different classes of rides: 1) Easy 25 Mile, 2) Moderate 50 Mile, and 3) Difficult Metric Century. I rode in the Metric Century and had the good fortune of being in good hands, accompanying a doctor and dentist. The doctor was a former Cat II cyclist with 17 years of riding experience and the dentist was a local from Santa Maria who was very familiar with the course, as he frequently rides in the Santa Ynez Valley.
I have to say that this was one of the most difficult rides for me, as it entailed a lot of climbing over the 63 miles. For those familiar with cycling, I believe I hit my lactic threshold (LT) at least once or twice during a few of the bigger uphills. In the end however, I was able to apply a lot of good pointers on how to pedal more efficiently and the ride was very enjoyable despite all the pain I may have gone through. Besides, the scenery among the multitude of vineyards this time of year is absolutely spectacular!
Beach Cities Cycling Club "Coffee to Mandeville" Ride
On Saturday, October 28th, 2006, I rode with the Jim Hannon led group up to the top of Mandeville Canyon Rd. This is a strenuous climb from the terminus at Sunset Blvd., where it begins and ends just shy of Mullholland Dr. It is 5.1 miles in length with an elevation gain of over 1400 feet. This is a popular climb for avid racing cyclists and we encountered quite a few of them on-the-way-up and back down on this beautiful day in the Southland.
The group left The Catalina Coffee Co. in Redondo Beach, bright and early, traversing through Marina Del Rey, Venice, Santa Monica and Brentwood before making it back to the departure point by early afternoon. The total distance of the ride covered 50 miles.